7 Reason Why Vector Art is the Right Choice for You!
Think about the innovative pictures and memes you often see and save on your social media accounts and share with friends. As you resize those images, you might face pixelating issues and blurs. Those issues will no longer bother you as you venture into the world of vector art. Enrolling in a Certificate course in Vector art with Abode illustrator will land you where you always wanted to be!
Vector art is like digital art.
It is produced with vector design software. These programs help to build images with the use of mathematical formulas. It generates simple shapes between the points instead of the pixels.
We all love vector art design. Today in this article, we will learn what vector art is, the difference between vector art and Raster, use of vector art, and get started with vector art like a pro.
If you are keen to know about vector art to use it professionally, opting for a Vector art course online will enable you to get started without any doubt.
To begin with, let's know the vector art in detail.
What is Vector Art?
Vector Art is a technical term. Vector artwork that is made up of vector graphics. These graphics can be points, curves, lines, and shapes based on mathematical formulas.
It refers to the mathematical algorithms used to create images and illustrations in software like Adobe Illustrator. The Vector Art design is a great way to showcase scales, modify and resize the images without hurting the image's quality.
To see the actions, let's see the picture below.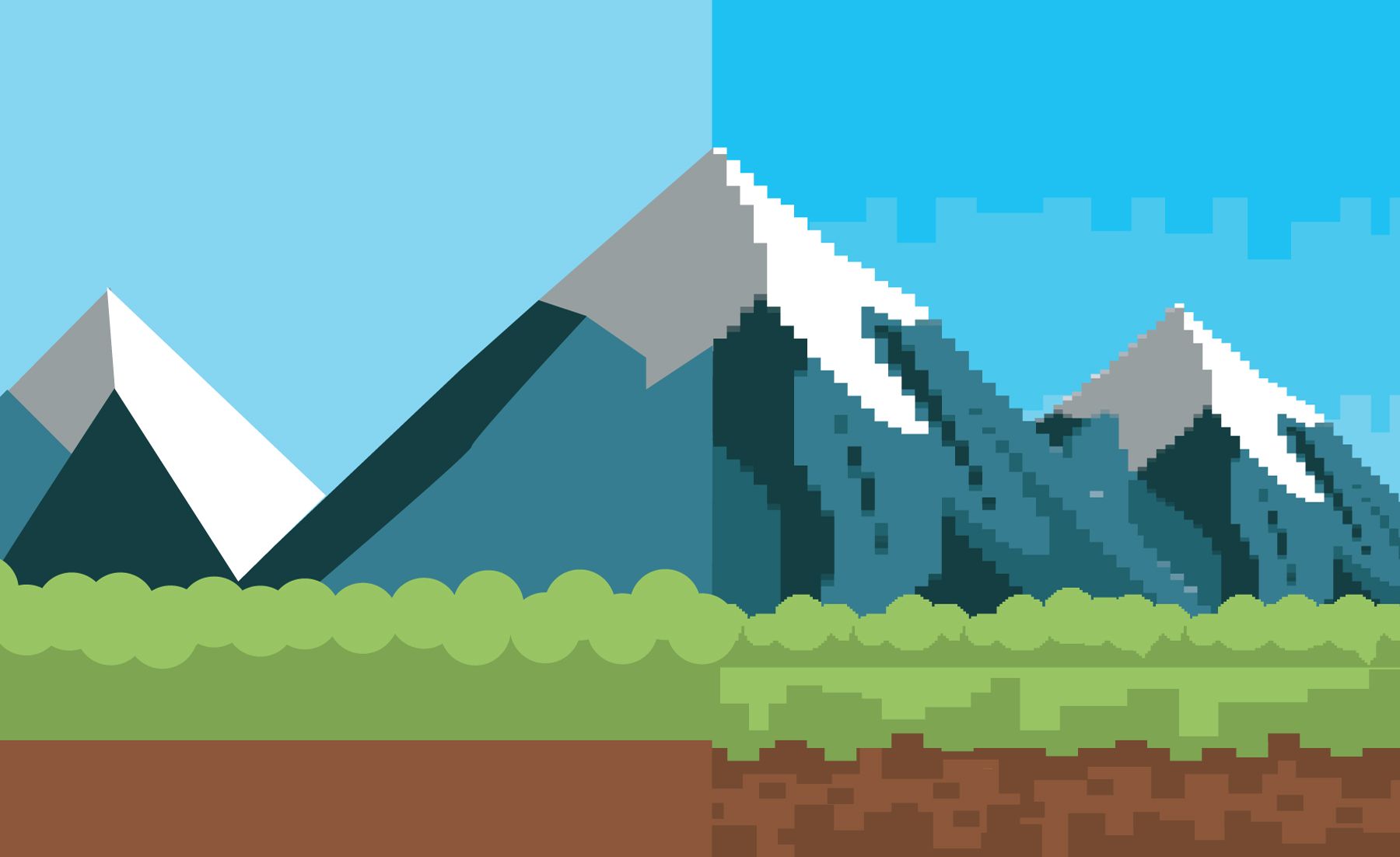 Is Vector Art or a Design?
It is both. You can use vector art purely to create impressive digital art and illustrations, try remarkable designs, including logos, prints, and advertisements.
What is the difference between Raster and Vector?
There is a massive difference between Raster and Vector. We have included a few here listed below: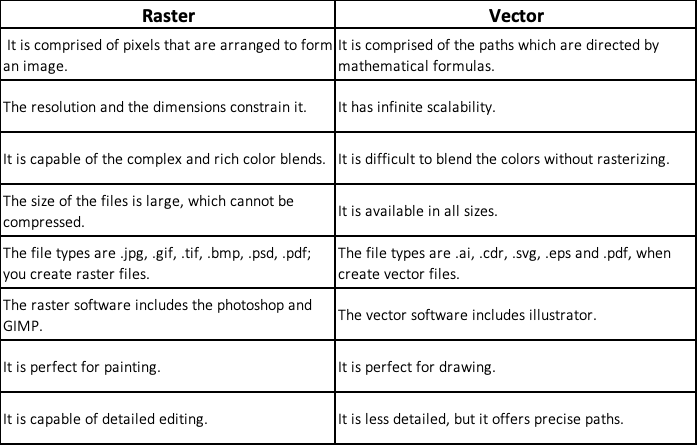 What is vector art used for?
The vector graphics / digital art is used for the marketing campaign. These are extremely useful and can be used to create logos, promotional merchandise, printed ads, and billboards. It is used in the following ways.
Illustrations
Many artists and illustrators do their work on the tab or computer. The vector design is required to create a clean and professional look and feel. It makes the display far more interesting.
Logos
Vector logo design is highly in demand. There are many examples of vector logos that you come across every day. Examples are Facebook, Disney, Coca-Cola, McDonald's, and more. These are all created using vector graphics. You can explore creating such logos if you learn how to draw vector art.
Billboards
An impressive billboard will surely catch your eye. All you need to do is create it wonderfully. Thanks to the outstanding Vector Art that takes up the space on the prominent billboards and still looks crystal clear.
Printed ads
If you are up for designing excellent magazines, pamphlets, and brochures for printed ads, then using Vector Art is the best way to make it look great. Most of the designers will choose Vector Art for the published ads.
Books
The whole world of publishing would be incomplete without vector graphics. It comes in handy for eye-catching covers, comic books, and even picture books. The Vector Art design on books is attractive to kids and adults.
Websites
Using Vector Art is helpful if you want to use it in any viewable size on a screen like mobile or desktop.
Movie posters
Using Vector Art is great for showcasing any thriller or cool film posters. There are many movies where additional posters are created with the help of vector art.
Cartoons
The world of cartoons has a different sentiment for all of us. Comics hold a different feeling for adults, teens, or even kids. For adults, it takes us to our Sundays when we used to sit and watch cartoon programs. Digital art or Vector Art was also used in the cartoons, which we were unaware of!
Album covers
Using Vector Art on the album cover creates an unbelievable look and feel. The world is moving between YouTube, Spotify, iTunes, and more. Old fashion albums do not impress anyone. It would help if you mainly created fine Vector Art for modern albums to gain attention. Like Kanye west's albums have Vector Art cover designs.
Email campaigns
These days creative marketing emails get a lot of attention. Using vector graphics will help in creating the campaigns in a more lucrative way. This will even save your emails from going into the spam folder.
Signs
Whether it is a yard sign, banner, floor decal, or even open or closed signs, the Vector Art is visible and valuable here. The characters are used to communicate appropriately and clearly.
Videos games
The use of Vector Art was unbelievable in the iconic arcade classics like the Battlezone or Asteroids. The video game company used graphics to make it look outstanding and impressive. They indeed did justice to the game.
Branded Merchandise
Be it t-shirts, mugs, pens, or keychain prints, bigger or smaller size, a vector graphic is the best way to create it because of its size enlargement feature, which can be used on anything.
It is more than just the marketers or the entertainment companies who benefit from the Vector Art design or Vector art logo. Whether you have to create a poster for a project or a presentation, you can use vector graphics for an exceptional display.
To exercise your creativity, learning vector art courses online is always a great idea to get a clear vision and experience on how to perform it. Becoming familiar with the vectorisation process is crucial to becoming a vector art expert.
What skills should you have to become an expert in Vector Art?
There are a lot of things you should know when you choose vector art. The skills that you should master include the following:
Vector Graphics
Low poly Art
Mandala Art
Artwork for Merchandise
Isometric Infographics
By mastering these skills, you will understand the various types of artwork used to create in Adobe Illustrator. These skills are crucial to create something extraordinary.
Detailed Vector Art needs comprehensive knowledge of other paintings to make something out of the box. Apart from these, a few more things fall under consideration. It is listed below.
Basic drawing skills: It is essential to have a good sense of composition, proportion, and perspective to create visually appealing vector art.
Knowledge of vector graphics software: You should be proficient in using vector graphics software such as Adobe Illustrator to create and edit vector art.
Understanding of color theory: It is crucial to have a strong knowledge of color theory to create harmonious and effective color schemes in your Vector Art.
Attention to detail: Vector Art requires precise lines and shapes, so it is important to pay attention to more information and make adjustments as needed.
Creativity and artistic vision: Vector Art requires a strong sense of creativity and creative imagination to come up with unique and visually appealing designs.
Adaptability: The ability to adapt to different styles and techniques is vital in vector art, as you may be asked to create designs of various types.
Strong communication skills: It is essential to communicate your ideas effectively and collaborate with others, especially when working on a team or with clients.
Do you want to make your vector art?
Start Learning Vector art with Adobe Illustrator from the Experts.
To begin this journey as a vector artist, you should enrol in the Certificate course in Vector art with Abode illustrator for the best learning experience. The course is curated by industry experts who have been in this business for years.
It is a skill-driven professional course that will make you confident in your knowledge and skills and help you explore a job as a vector artist/digital designer once the procedure is completed.
If you know or learn adobe illustrator, it is an add-on to this course. You can polish your creative skills and learn advanced graphic and digital design as a career option.
The Vector art course online or the Vector Art program online will make your journey in this field advanced. Make the most of your learning by choosing the course: Vector Art with Adobe Illustrator.